Workshops & Registered Classes

We are so happy to bring you these upcoming workshops and registered classes. They give us a wonderful opportunity to learn and grow, sometimes pushing us past our conceived boundaries and other times grounding us back to our foundations. Register online or in studio before spaces are gone!

---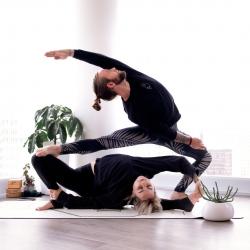 Elevate Your Inversions
with Daniel Rama and Shakti
This first workshop session is geared towards a fine-tuning of the foundational components needed for a range of inversions including sirsasana, mayurasana and the classic handstand. Participants will find the opportunity to enhance their understanding of proper alignment and activation, as well as experience functional movement patterns designed to shed light on a variety of easy to advanced hand balance asana. All levels are welcome.
$45 or $145 for workshop series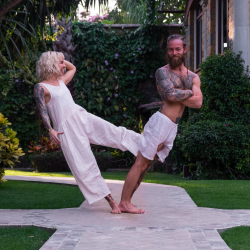 Flexibility & Mobility Unlocked
with Daniel Rama and Shakti
The last workshop session being offered by Shakti and Rama, FM Unlocked focuses on lower body flexibility skills such as front splits, middle splits and the subtitles of enhancing hip mobility. Gain techniques and tools for keeping your joints healthy while working towards new range of motion. Don't miss the chance to learn flexibility secrets proven to help you succeed!
$45 or $145 for workshop series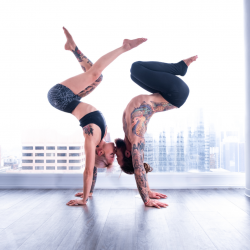 Handstand Skills & Drills
with Daniel Rama and Shakti
Expanding onward from Elevated Inversion principles, in this session we breakdown additional entries and handstand skills such as hollowbacks, head positions and the seven. Students will also gain exposure to the secrets of sought after asana including flying crow and single arm peacock. It is recommended that participants understand the previous session or possess basic understanding of the components of a classical handstand.
$45 or $145 for workshop series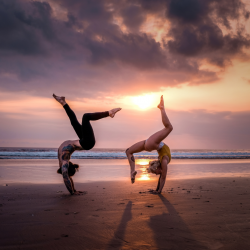 Intelligent Spine Back-Bending
with Daniel Rama and Shakti
The spinal column is one of the most important aspects of our physical system. In many ways, learning how to positively manipulate the spine, is the key to unlocking ones higher potential. Intelligent Spine is a partly theoretical, partly practical session, designed to shed light on the do's and don'ts of intelligent back-bending. Participants will walk away feeling motivated and more confident in the act of safely manipulating, and working to improve the overall wellness of the human spine.
$45 or $145 for workshop series