Workshops & Registered Classes

We are so happy to bring you these upcoming workshops and registered classes. They give us a wonderful opportunity to learn and grow, sometimes pushing us past our conceived boundaries and other times grounding us back to our foundations. Register online or in studio before spaces are gone!

---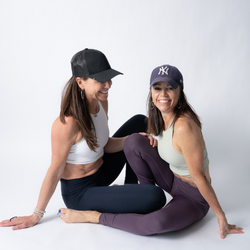 Pure Ignite & Pure Sculpt Immersion
with Kristine Murphy & Michelle Waddock
We are so excited to announce the details of our latest yoga immersion. This is something that we have never done before! Kristine Murphy and Michelle Waddock will introduce you to a brand new class called Pure Ignite & guide you through our popular Pure Sculpt class. Throughout the weekend, we will be covering the sequences and concepts of both Ignite and Sculpt. Prepare to challenge your body and mind, as we will dare you to get outside your comfort zone. This immersion provides an opportunity for you to enhance your practice and dive deeper into Sculpt & learn new skills through Pure Ignite. Come learn and grow as a yogi and become the limitless person we all know you are! This training welcomes those who hold their 200 or 300 hr certification as well as practitioners looking to gain insights on developing their own practice. This will not be a certification weekend, nor will it mean that you will become a teacher at Pure, however it will give you insight and tools that you will be able to use in not only your teaching and yoga movement practice, but also in your life. PURE IGNITE - It's time to feel the burn. This class is designed to connect you to your body through movement, music and muscle activations. We will focus on functional mobility, isometric strengthening exercises and cardio while flowing to the beat of the music. We will challenge you to get outside your comfort zone to drop your expectations and to dare to take some chances to create change. This workout is done by candlelight in a warm room fueled by dynamic and powerful music. We will link movement with music to create strength, calm our minds and open our hearts. Our goal in this class is for you to raise your vibration and create synergy through movement in community to leave feeling more inspired and alive.
$425 + GST